At PT. Jaya Obayashi, our commitment to promoting diversity and inclusion is evident in our active participation in external events. One notable event we recently took part in was the Walk for Autism 2023, organized by the esteemed organization Junior Chamber International (JCI).
Our involvement in such initiatives aims to raise awareness about the unique needs of individuals with disabilities, including those with autism. Through these events, we strive to create opportunities that enable autistic individuals to cultivate their skills and passions, and ultimately showcase their talents to the world.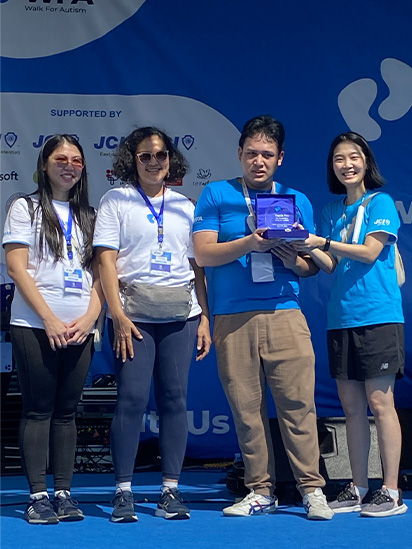 To make a meaningful impact, PT. Jaya Obayashi collaborated closely with our autistic friends who have harnessed their talents and abilities. A shining example of this collaboration is our friend Darren Chandra, who wholeheartedly dedicated his artistic skills to create a stunning 100 cm x 62 cm dimension Cityscape Painting for PT. Jaya Obayashi.
By actively engaging with various sectors of Indonesian society, including educational institutions, communities, and corporate entities like Jaya Obayashi, we aim to inspire a collective effort towards fostering a truly inclusive social environment, free from discrimination. Together, we can empower every individual to fully participate in all aspects of life.